Login to view price.
Dive into the realm of Lost Liq E-Liquids with Lost Liq Strawberry Raspberry Cherry Nic Salt E-liquid; a 10ml Nic Salt e-liquid available in 10mg & 20mg bottles.
Embark on a delightful journey with the enticing Strawberry Raspberry Cherry Nic Salt E-Liquid by Lost Liq. 
This nic salt e-liquid is a beautifully balanced blend of succulently sweet strawberries, tart raspberries, and rich red cherries that unite to offer an orchestral performance for your pleasure. Each puff will wrap you up in its melodious song, where sweet and tart notes play together in perfect harmony, providing a joyous serenade to your senses. Make this refreshing refrain a part of your daily routine, and you won't be disappointed!
Discover the long-awaited Lost Liq nic salt e-liquids, which provide up to 3000 puffs of pure flavour per bottle! These e-liquids, inspired by bestselling disposable vape brands such as Elf Bar & Lost Mary, offer an unrivalled experience, blending creativity and quality in every drop. Dive into a sea of delicious flavours with Lost Liq.

Looking for something specific? Check out some of our other popular Nic Salt E-Liquids, such as Bar Series Nic Salts, Elfliq Nic Salts, or Bar Juice 5000 Nic Salts for the best nic salt e-liquid flavours inspired by disposable vapes.
Lost Liq Strawberry Raspberry Cherry Nic Salt E-Liquid Features:
Flavour Profile: Strawberry, Raspberry, Cherry

Bottle Size: 10ml

Nicotine Strengths: 10mg, 20mg

VG/PG Ratio: 50/50

Designed for MTL vaping with low-wattage devices

TPD Compliant

Made in the UK

Childproof Cap design

Recyclable bottle

3000 Puffs

Inspired by Disposable Vapes
View full details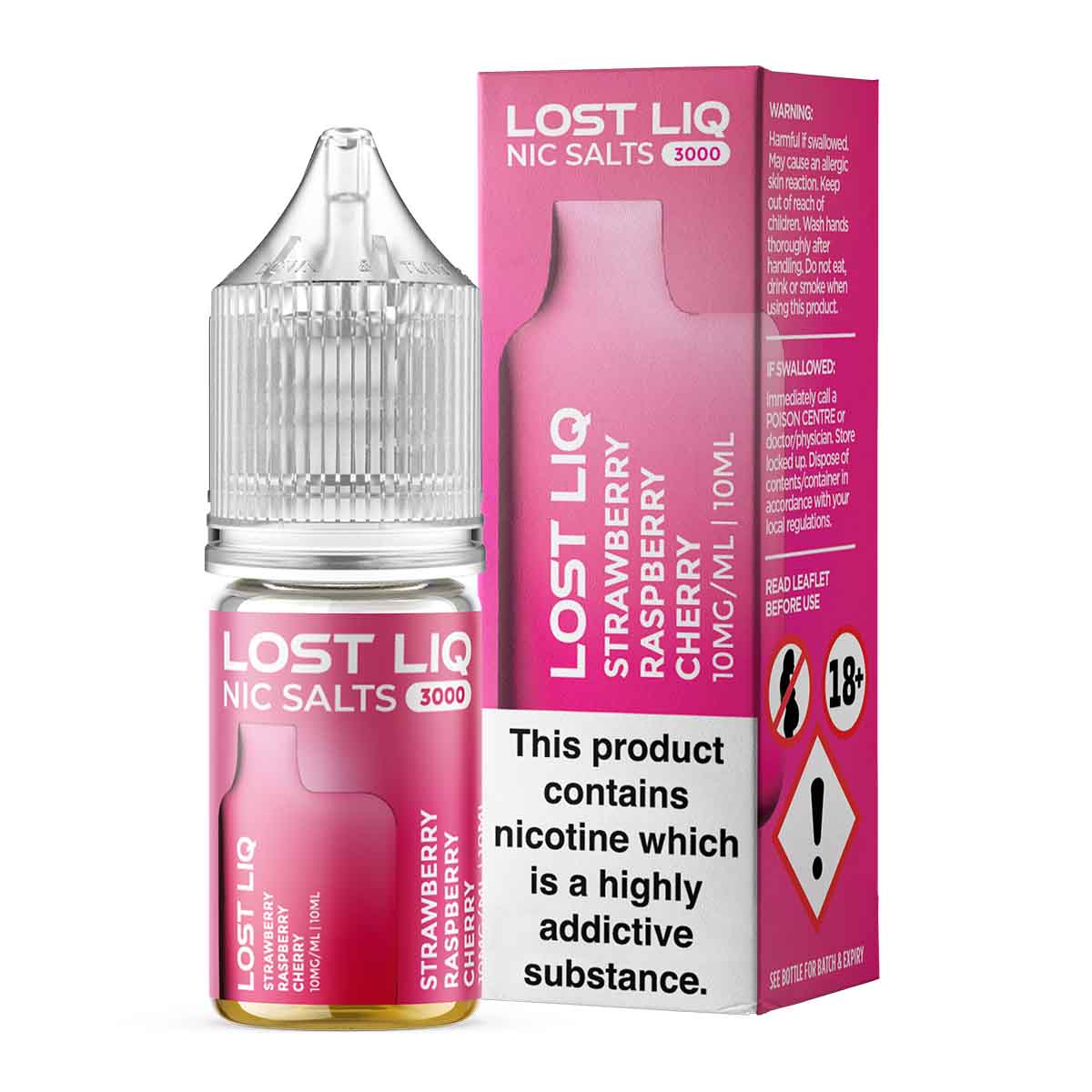 Saturday Delivery Available