Login to view price.
Cherry Sour Raspberry E-liquid by Seriously Fusionz
Seriously Fusionz Sour Raspberry Cherry Nic Salt E-Liquid by Doozy Vape - this seriously tasty vape juice is available in 5mg, 10mg and 20mg nicotine in a 10ml bottle.
Cherry Sour Raspberry Nic Salt E-liquid by Seriously Fusionz offers an enchanting combination of tangy raspberries and sweet cherries. The bold and invigorating flavour profile delivers a delightful blend of sour and sweet fruity notes, creating a vibrant and satisfying e-liquid for fans of intense flavour.
This is a 50/50 VG/PG e-liquid available in 5mg, 10mg & 20mg Nicotine Salt, and as such we'd recommend using this e-liquid in a low-wattage MTL Starter Vape Kit or Pod System Vape for the best performance and smoothest experience.
Cherry Sour Raspberry Nic Salt E-liquid by Seriously Fusionz contains  Nicotine Salts. Nicotine salts provide a smoother and quicker nicotine delivery compared to traditional e-liquids, offering a satisfying vape with higher nicotine concentrations and reduced throat hit for a smoother sensation.
The 10ml bottle is designed for convenience and portability, making it a perfect companion for vaping enthusiasts on the move.
Doozy Vape's Seriously range of e-liquids has gained immense popularity in the vaping community. Known for their incredible flavours and outstanding quality, they've gained a loyal fanbase and dedicated following due to their hard work and commitment to producing quality vape juice. 
Doozy Vape e-liquids are seriously enjoyable, and we've no doubt you'll feel the same way about their latest range: Seriously Fusionz! 
Features:
Flavour Profile: Cherry, Raspberry, Sour

5mg/10mg/20mg Nicotine Salt

10ml Bottles

50/50 VG/PG Ratio

Suitable for MTL Vapes

Recommended for Low-Wattage Vape Kits

Wide range of flavours

Quality Controlled

Inspired by Disposable Vapes

TPD Compliant
View full details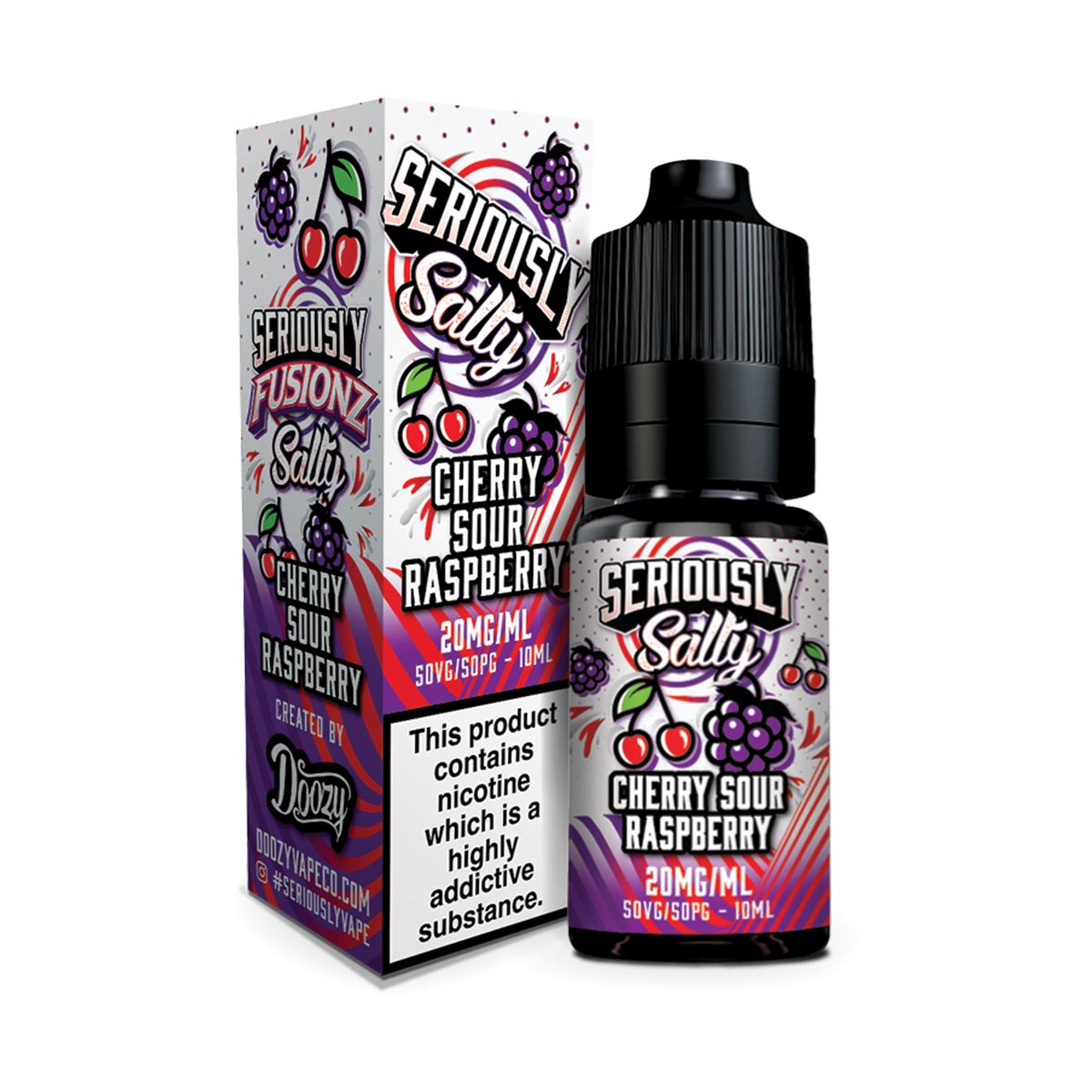 Saturday Delivery Available