Login to view price.
Dive into the luscious world of Lost Liq E-Liquids with Lost Liq Mango Ice Nic Salt E-liquid; a 10ml Nic Salt E-Liquid available in 10mg & 20mg bottles.
Lost Liq's Mango Ice Nic Salt E-liquid transports you to a tropical paradise with its extraordinary exotic flavour.
Picture pure, juicy mangoes sliding down an icy waterfall, merging into a beautiful blend of sweet, crisp, cool refreshment. This e-liquid soothes the senses, where every inhale is a blast of mouth watering mangoes complemented with a cool frosty finish, giving a sublime combination of fresh fruit and cooling tones that will take you on an amazing roller coaster ride of fantastic flavour.
Discover the long-awaited Lost Liq nic salt e-liquids, which provide up to 3000 puffs of pure flavour per bottle! These e-liquids, inspired by bestselling disposable vape brands such as Elf Bar & Lost Mary, offer an unrivalled experience, blending creativity and quality in every drop. Dive into a sea of delicious flavours with Lost Liq.

Looking for something specific? Check out some of our other popular Nic Salt E-Liquids, such as Bar Series Nic Salts, Elfliq Nic Salts, or Bar Juice 5000 Nic Salts for the best nic salt e-liquid flavours inspired by disposable vapes.
Lost Liq Mango Ice Nic Salt E-Liquid Features:
Flavour Profile: Mango, Ice

Bottle Size: 10ml

Nicotine Strengths: 10mg, 20mg

VG/PG Ratio: 50/50

Designed for MTL vaping with low-wattage devices

TPD Compliant

Made in the UK

Childproof Cap design

Recyclable bottle

3000 Puffs

Inspired by Disposable Vapes
View full details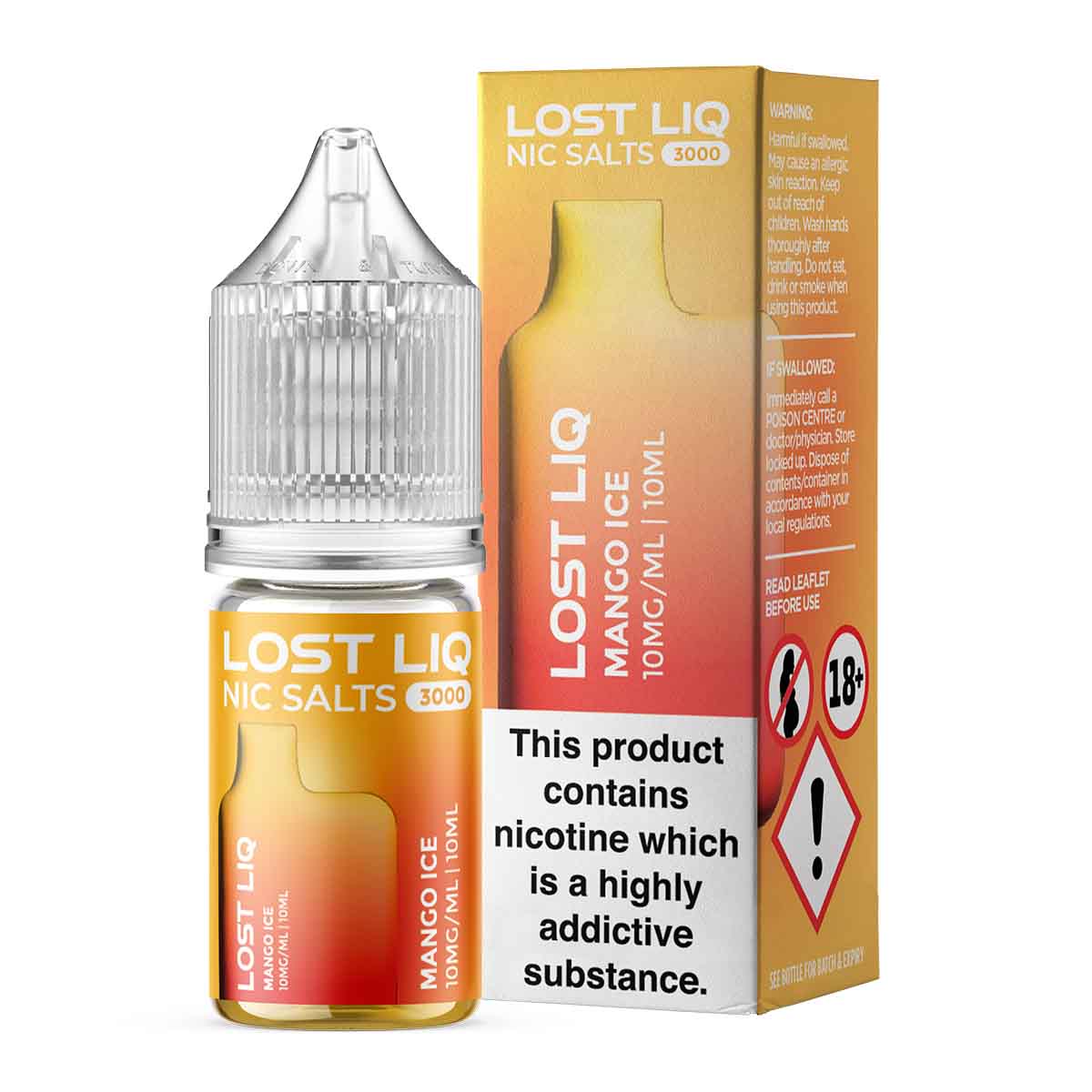 Saturday Delivery Available