Login to view price.
A great RTA option from QP Designs. The Gata is a dual purpose RTA that lets you vape as direct to lung or mouth to lung in one device. 
The Gata comes with two airflow rings and two tank sections. one for DTL and one for MTL. The DTL tank section has a longer chimney allowing more airflow to pass through and under the coil, as well as a top fill system. 
The MTL tank is slightly shorter, with a bottom fill system and smooth glass top. Each tank uses a 510 drip tip adapter and the kit will come with two different tips. One wide bore and one with a more traditional MTL classic design.
The kit will come with one single coil build deck with a postless design. In between the coil lead hoes there is a small ultem insert to restrict the airflow. This piece can be installed or removed depending on if you are using it in the MTL or DTL configuration and you also get a spare in the accessory bag. 
The Gata RTA is exceptionally well thought out, catering for two kinds of vape preferences out of one kit with a simple classic look and feel to the tank.
Features;
24mm Diameter
2ml Capacity
Single Coil Build Deck
MTL or DTL configuration
Two Airflow Rings
Two Top Tank Sections
Top fill or Bottom Fill (depending on tank section)
Bottom Airflow
510 Drip Tip
Two Drip Tip Options
Postless Build Deck
Package Contents;
1x Gata RTA Build Deck
2x Airflow Rings 
2x Tank Sections
2x 510 Drip Tips
1x Accessory and Spares Bag
View full details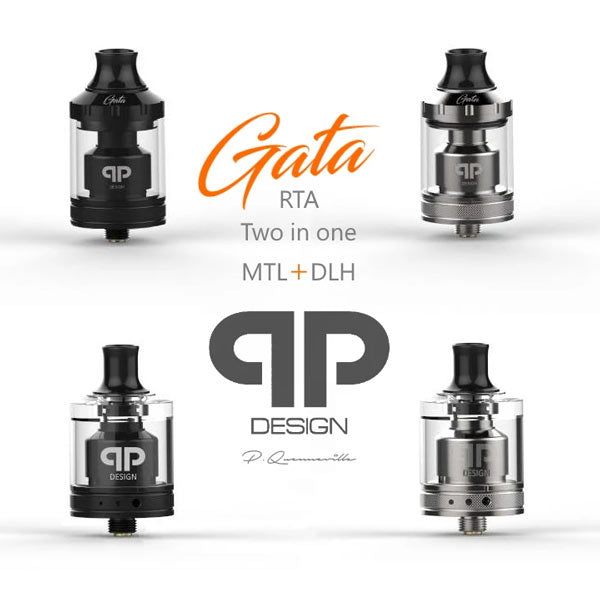 Saturday Delivery Available